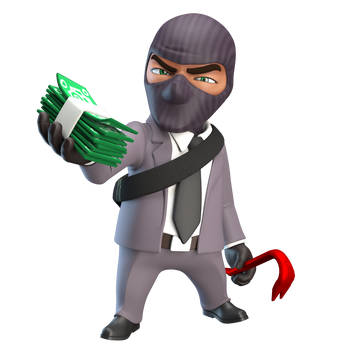 "It's all about the cold hard cash!"
The thieves prefer not to fight, but the lure of cold hard cash brings them into raids. Usually found stuffing stolen cash into their voluminous bags while other gang members do the dirty work.
---
Troop Summary
The Thief is the third troop available from the Juice Bar.
The Thief will target resources and will do everything he can to get his hands on some cold hard cash!
Thieves only require 1 housing space.
Thieves can be upgraded 4 times, every upgrade will increase the Thieves damage per second and hit points.
---
Tips and Tricks
The Thief is extremely quick and he can easily dodge mortar rounds when running at full speed. This makes the Thief a great mortar distraction!
Thieves are great at stealing resources. If an enemy's resource storages are left unguarded then thieves will make quick work of stealing their loot!
Thieves can be quickly killed if left unprotected. Sending in Thugs and Hoodlums can help to distract defensive buildings whilst the thieves help themselves to Juice and Cash.
Some 'hoods may seem hard to defeat but that doesn't mean that you can't use Thieves to steal all their hard earned loot!
| Preferred Target | Housing Space | Speed | Movement Speed |
| --- | --- | --- | --- |
| Closest Building | 1 | Very Fast | 2.9s |
Notes
The Thief receives a x2 damage multiplier against resource buildings!
| Level | Damage Per Second | Recruit Cost | Hit Points | Training Ground Level Required | Training Time |
| --- | --- | --- | --- | --- | --- |
| 1 | 9 | 50 | 34 | N/A | N/A |
| 2 | 14 | 70 | 40 | Level 2 | 18 hours |
| 3 | 18 | 100 | 48 | Level 3 | 2 days |
| 4 | 20 | 120 | 58 | Level 5 | 5 days |
| 5 | 27 | 150 | 70 | Level 6 | 1 week |
| 6 | 31 | 170 | 77 | Level 7 | 10 days |