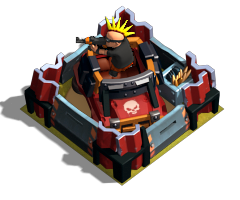 "Rifle posts will target incoming ground troops. They have medium range and will target attacking troops individually!"
Defensive Strategy
Rifle Posts can only take on individual enemy troops so keep them away from the Raider Spawn Zone as this will encourage enemy players to spam troops near them.
Pairing the Rifle post with another defense like the Sniper Tower or Mortar to reduce the likelihood of it being attacked.
Low Level Rifle Posts are very weak at their base level but with a few upgrades they can become a serious threat.
Offensive Strategy
Rifle Posts have a fairly low rate of fire usually 1 three round burst per second making them quite easy to overwhelm in groups of six to nine troops.
A group of Thug can survive numerous Bursts from a Rifle Post as their low DPS is not enough to kill a single thug let alone a whole group without having another defense to protect them.
Drones and Copters can reduce a rifle post into debris in under 30 seconds as the rifle post's AI does not target these specific troops.
---
| | | | |
| --- | --- | --- | --- |
| | | | |
| Level 1 | Level 2 | Level 3 | Level 4 |
| Range | Target Type | Damage Type |
| --- | --- | --- |
| 8 | Ground | Single Shot |
| Level | Damage Per Second | Hit Points | Upgrade Cost | Upgrade Time | Boss Mansion Level Required |
| --- | --- | --- | --- | --- | --- |
| 1 | 7 | 260 | 350 | 1 minute | 1 |
| 2 | 9 | 290 | 1400 | 15 minutes | 1 |
| 3 | 15 | 320 | 5600 | 2 hours | 2 |
| 4 | 26 | 340 | 22000 | 4 hours | 3 |
| 5 | 44 | 370 | 60000 | 10 hours | 4 |
| 6 | 53 | 400 | 100000 | 18 hours | 5 |
| 7 | 58 | 420 | 750000 | 1 Day | 8 |