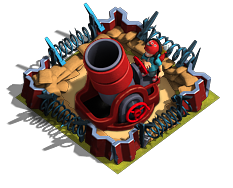 "Slow but powerful defender, capable of striking multiple ground enemies!"
Defensive Strategy
The Mortar can instantly kill any light unit in a single shot, However their painfully slow fire rate as well as projectile speed make them vulnerable to group rushes.
Place the Mortar away from roads or behind structures to avoid it being flanked by enemy troops as it needs time to reload in-between shots.
Offensive Strategy
Take Advantage of the Mortars by using Thugs as meat shields while your other units attack.
The mortar will stop firing if the player manages to get troops within its blind spot so try to occupy its attention whenever possible.
---