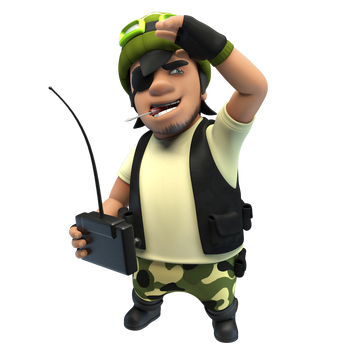 "Death from above!"
The Drone loves all things mechanical and used to be a top engineer until an unfortunate accident took his eye! Now he is using his skills to rain hand grenades down upon the heads of those that get in his way!
---
Troop Summary
The Drone is the seventh troop available in the Juice Bar.
Drones will drop highly explosive rounds onto the nearest defensive building!
Each Drone takes up 3 housing space. Drones are expensive to recruit but they are definitely worth the extra Juice!
Drones can be upgraded 4 times, every upgrade will increase the Drones damage per second and hit points.
---
Tips and Tricks
Large swarms of Drones can be extremely effective and they will easily turn any defensive building into a flaming pile of rubble!
The Drone can easily be taken out by Anti-Air Towers. Make sure that these towers are destroyed before sending in the air support!
Drones will be attacked by Anti-Air Towers, RPG Posts and Sniper Towers. So make sure you place your Drones strategically when attacking!
| Preferred Target | Housing Space | Speed | Movement Speed |
| --- | --- | --- | --- |
| Closest Defense | 3 | Very Slow | 1.5s |
| Level | Damage Per Second | Recruit Cost | Hit Points | Training Ground Level Required | Training Time |
| --- | --- | --- | --- | --- | --- |
| 1 | 36 | 3200 | 160 | N/A | N/A |
| 2 | 45 | 4000 | 180 | Level 2 | 1 day |
| 3 | 60 | 4700 | 200 | Level 4 | 2 days |
| 4 | 75 | 5400 | 220 | Level 5 | 5 days |
| 5 | 90 | 6100 | 240 | Level 6 | 1 week |