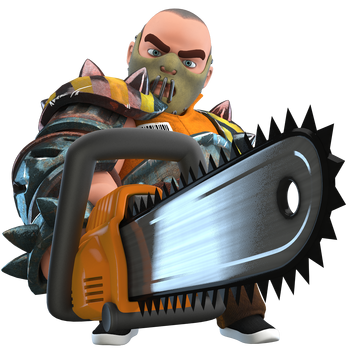 "Chainsaw powered chaos!"
Brutal, tenacious, tough and armed with a chainsaw! The Convict is determined, single minded, but not too bright. In his eyes anything can be fixed, solved and accomplished using a chainsaw!
| | |
| --- | --- |
| | |
| Level 1 | Level 2 |
---
Troop Summary
The Convict is the tenth troop available in the Juice Bar.
The Convict has no preferred target type and he will head straight for the nearest building to carve it down to size with his trusty chainsaw.
Convicts require 15 housing space and are the most expensive troop.
The Convict can be upgraded once. Training the Convict will increase his hit points and damage per second.
---
Tips and Tricks
The Convict is brutal, tenacious and tough! He is great at soaking up enemy fire and his chainsaw will quickly destroy anything it touches.
Convicts will attack anything and can be vulnerable if they get distracted by attacking Resource Buildings.